Sir William Searle Holdsworth: A History of English Law Volume 2: Book II - Anglo Saxon Antiquities 4th ed (499 - 1066) & Book III The Mediaeval Common Law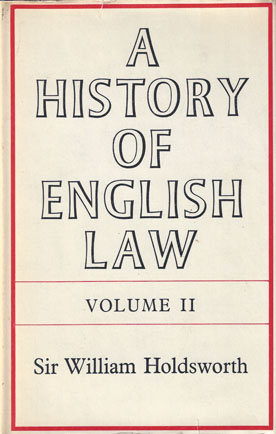 ISBN13: 9780421050204
ISBN: 0421050209
Published: June 1936
Publisher: Sweet & Maxwell Ltd
Country of Publication: UK
Format: Hardback
Price: £135.00

Despatched in 3 to 5 days.
The dust jacket image shown is of the 1966 reprint. The current edition has no dustjacket.
Sir William Searle Holdsworth was professor of constitutional law at University College, London (1903–8). After 1922 he was Vinerian professor of English law at Oxford. Holdsworth's greatest achievement is his History of English Law in 17 Volumes.
Sir William Holdsworth's monumental legal history extends from Anglo-Saxon times to the nineteenth-century Judicature Acts. It was interrupted by his death in 1945, when he had reached Volume 12.
Subsequent volumes have been edited by Professors A. L. Goodhart and H. G. Hanbury, at first from Holdsworth's typescript and later, with more difficulty, from his manuscript notes.
Volume 2 includes the whole of Book II-Anglo-Saxon Antiquities-and the first part of Book III-The Mediaeval Common Law. Holdsworth examines the period 449-1066 in detail, starting with an introduction and a discussion of the sources and general development and going on to consider the rules of law under the following headings:-
The Ranks of the People;
Criminal Law;
The Law of Property;
Family Law;
Self-help;
and Procedure.
He then examines the period 1066-1485, discussing the sources and general development under the headings:-
The Intellectual, Political, and Legal Ideas of the Middle Ages;
The Norman Conquest to Magna Carta;
The Reign of Henry III;
The Reign of Edward I;
and The Fourteenth and Fifteenth Centuries.