Cases and Statutes on Evidence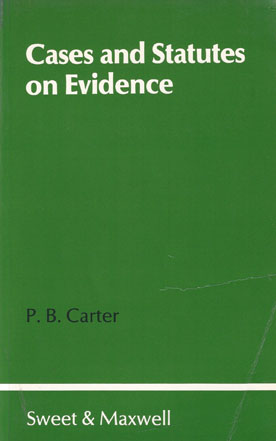 ISBN13: 9780421203303
ISBN: 0421203307
Published: March 1981
Publisher: Sweet & Maxwell Ltd
Country of Publication: UK
Format: Paperback
Price: Out of print

Out of Print
This is a major new source-book on Evidence. Although based upon the popular Cockle's Cases and Statutes on Evidence and retaining its original framework it is now so considerably expanded and revised as to be a cornpletelv new book. Like Cockle it is divided into three parts, dealing respectively with cases, statutes, and rules, but, now updated throughout and substantially enlarged in size, it represents an important addition to the current literature on Evidence in its own right.
Part One (Cases) has been completely re-cast into 26 chapters. In addition to the principal cases, which are set out in the Cockle format, each chapter also includes a number of briefs of further cases. In the selection of cases for inclusion in this new book there is a marked bias in favour of relatively recent decisions. Some important and interesting Commonwealth authorities, especially in the decisions of Australian, Canadian and New Zealand courts have been incorporated.
Part Two (Statutes) is based on a complete revision of the corresponding part of Cockle and has been expanded to include extracts from over 100 statutes.
Part Three (Rules) containing extracts from various sets of Rules set out in Cockle has been revised and brought up-to-date. In some instances additions have been made, and in particular the Judges' Rules and Administrative Directions to the Police, as re-issued in 1978, have been set out in full.
For law students as well as practitioners, Evidence is an increasingly important topic and now features even more prominently in professional examinations. The comparative dearth of source-books is effectively remedied by this timely new book-it should rapidly become a significant addition to practice libraries and student reading lists everywhere that English law operates.
Cockle's Cases and Statutes on Evidence First Edition (1907) by Ernest Cockle Second Edition (1911) by Ernest Cockle Third Edition (1915) by Ernest Cockle Fourth Edition (1925) by S. L. Phipson Fifth Edition (1932) by C. M. Cahn Sixth Edition (1938) by C. M. Cahn Seventh Edition (1946) by Lewis F. Sturge Eighth Edition (1952) by Lewis F. Sturge Ninth Edition (1957) by G.D. Nokes Tenth Edition (1963) by G.D. Nokes Eleventh Edition (1970) by G.D. Nokes