Civil Procedure 2nd ed: October 1999 - A White Book Service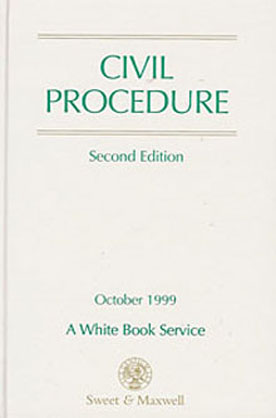 ISBN13: 9780421692602
ISBN: 042169260X
Published: October 1999
Publisher: Sweet & Maxwell Ltd
Country of Publication: UK
Format: Paperback
Price: £50.00
(Second Hand)

NB: This is not the 1999 White Book. It is a bridging volume between the pre and post Woolf Reforms.
This revised edition of The Civil Procedure Rules 1998 brings the work fully up-to-date, including the many changes to the Rules and Practice Directions issued since April 1999 and offers a full replacement to Volume 1 of the current service.
This work contains:-
Fully updated text of Civil Procedure Rules 1998
All Practice Directions supplementing the Rules and Miscellaneous Practice Directions
Updated commentary on the new Rules and those RSC and CCR still in force under the Schedules to the new Rules.
Pre-Action Protocols
CPR Forms
New Court Guides for the Chancery Division, Commercial Court, Mercantile Court and Patents Court.
Supreme Court Fees Order 1999 and County Court Fees Order 1999
Expert commentary by the White Book editors provides a clear explanation of the new procedures, examines the relationship between the new Rules and the old regime, and alerts practitioners to likely future changes. Now all civil litigators, practising in either the High Court or county courts, can rely on the authoritative guidance of the White Book Service.
Rules Up-to-date to October 20, 1999