Joint Ventures 3rd ed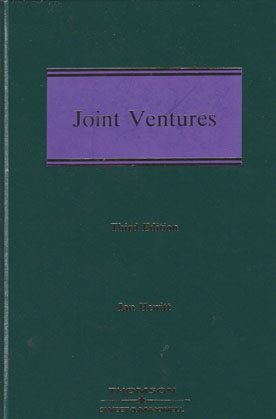 ISBN13: 9780421850507
ISBN: 0421850507
Published: September 2005
Publisher: Sweet & Maxwell Ltd
Country of Publication: UK
Format: Hardback & CD-ROM
Price: Out of print

Joint ventures aim to build successful and profitable relationships and the skill of the practitioner is to protect the client's interests in a way which is constructive to the establishment of a successful alliance.
The new 3rd edition of Joint Ventures will assist you to do this for your clients with confidence - giving you clear guidance on the issues you will encounter and enabling you to find constructive solutions.
Joint Ventures is a one-stop source of information and will help you plan, understand and implement joint ventures more successfully than ever before.
Provides practical guidance and analysis on all aspects of joint ventures and alliances
Takes a procedural approach, considering all the legal issues involved
Covers the practicalities involved in the drafting, negotiating and setting up joint ventures
Provides an overview of the law relating to joint ventures and includes comprehensive checklists and precedents for use in practice
Covers implemented legislative changes including the introduction of limited liability partnerships, the European Company and proposals for a UK Company Law Reform Bill
Includes free CD containing precedents and checklists