Law of Guarantee 3rd ed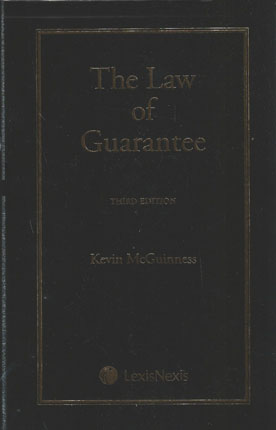 ISBN13: 9780433461289
Published: August 2013
Publisher: LexisNexis Canada
Country of Publication: Canada
Format: Hardback
Price: Price on Application

Guarantees in various forms have been around since Biblical times, and today remain among the most common forms of security for commercial transactions in all major economies.
Vast sums of money are lent every year solely or primarily on the strength of guarantees. It is therefore imperative that anyone dealing with guarantee law in Canada should have this essential guide within reach. Now fully updated, this new edition covers important cases and changes in the law.
Features and Benefits
Thoroughly examines the 5 most common forms of contract security
Guarantees
Indemnities
Stand-by Letters of Credit
Documentary Letters of Credit
Bank (Demand) Guarantees
Answers the questions that must be asked in each case
What are the distinguishing characteristics of each of these types of agreement?
What type of protection is afforded to creditors?
What liability is assumed by the issuer?
What are the rights of a person assuming such an obligation?
What defenses are available to a person assuming such an obligation?
Collects, summarizes and analyzes leading cases
Leading cases from Canada, the Commonwealth and the United States are analyzed and explained
Presents a comprehensive statement of both the law and practice relating to each case, based around a coherent set of common principles
Includes forms and precedents on CD-Rom What's New in This Edition?
Not just an update, the text has been almost completely re-written to reflect the many changes in case law over the past 17 years, and includes:-
A significantly expanded coverage of indemnities and letters of credit
A detailed comparison of the UCP 600, ISP 98 and URDG 758 in relation to letters of credit and contract guarantees
Increased focus on practice-related issues such as the giving of independent legal advice, the availability of summary judgment, and drafting tips
A detailed discussion of the relationship between implied rights of indemnity and the law of restitution
A critical discussion of many of the most common clauses found in guarantees, indemnities and letters of credit