Solicitor Client Privilege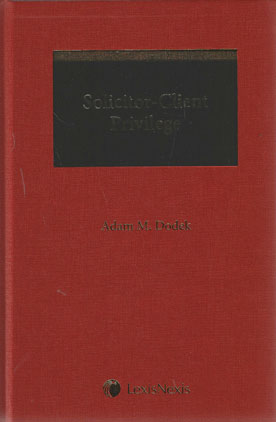 ISBN13: 9780433465324
Published: May 2014
Publisher: LexisNexis Canada
Country of Publication: Canada
Format: Hardback
Price: Price on Application

Solicitor-client privilege is the oldest and strongest legally-sanctioned safeguard protecting confidential communications. Yet, lawyers today know very little about the ways in which solicitor-client privilege can be overridden or rendered inapplicable. Most practitioners assume that all lawyer-client communications are protected – they aren't.
Solicitor-Client Privilege is the only Canadian textbook of its kind to explain key aspects of lawyer-client confidentiality. With a Foreword written by former Supreme Court of Canada justice Ian Binnie, this distinctly Canadian law textbook analyzes the exceptions to privilege, conditions where privilege is unclear, and situations of competing interests that might bring into question the application of privilege.
Especially useful is the examination of privilege in specific contexts, such as in civil litigation, administrative law, corporate settings, and government. Portable and immediately accessible, this useful hardcover book gives lawyers the answers they quickly need, and assurances as to when they can rely on solicitor-client privilege and when they can challenge it.
What This Book Features:-
Analyzes the impact of globalization and new technology on solicitor-client privilege
Discusses what constitutes privileged communication, and how it is interpreted by Canadian courts
This book provides in-depth coverage on every significant aspect of solicitor-client privilege, whereas other reference sources only provide a superficial treatment
Affordable, easily portable, this book serves as a quick reference guide for practitioners in all areas of law
Written by a Canadian professor of law who specializes in the study of solicitor-client privilege, providing expert insight into this fundamental aspect of legal practice