Expert Evidence 3rd ed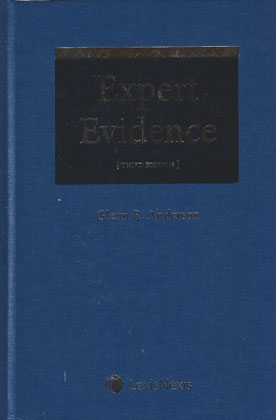 ISBN13: 9780433470335
Published: August 2014
Publisher: LexisNexis Canada
Country of Publication: Canada
Format: Hardback
Price: £98.00

How to Use Expert Evidence
Does expert evidence help judges and juries ascertain the facts? When should expert evidence be admitted, or excluded? How is expert bias discovered?
Courts have seen a dramatic increase in the use of expert evidence as more and more reliance is placed on specialized knowledge in society. This type of evidence is time-consuming and expensive. It can also lead to a miscarriage of justice.
Expert evidence also creates numerous other problems for lawyers and judges. The Supreme Court of Canada has recognized these dangers:
Misleading and confusing expert evidence
Expert evidence that distorts the fact-finding process
View of expert evidence as infallible
Distracting side issues caused by expert evidence
Judges and lawyers' uncertain capacity to determine reliability of expert evidence
Lawyers' difficulty challenging expert evidence
Superficial attractiveness of some expert evidence,
Fully updated, this new edition of Butterworths Expert Evidence will ease the strain of managing expert evidence. Author Glenn Anderson, of the Nova Scotia Department of Justice, describes and analyzes the law of expert evidence in Canada from both the civil and criminal perspectives. Analysis of the 2007 Supreme Court of Canada decision R. v. Trochym is included and highlights the increasing reliance on expert evidence. Glenn Anderson also recommends how to determine reliability and admissibility following methodologies from Canada and the United States. Discussion also includes potential reforms to improve impartiality of expert witnesses, reliability of expert evidence and its evaluation.
Expert Evidence, 3rd Edition will help you to:
Identify the confusing issues unique to expert evidence
Evaluate the reliability and admissibility of expert evidence
Enhance the impact of your expert witnesses
Challenge opposing expert witnesses effectively
New In This Edition:
5 new chapters on the following topics: Legislation and Procedural Rules, Disclosure and Discovery, Using Experts, Challenging Experts and their Opinions, and Managing and Judging Expert Evidence
Updated analysis on how the seminal case on expert evidence, R. v. Mohan, has been followed and applied by the courts
Updated chapter summarizing expert evidence admissibility decisions in both civil and criminal cases, organized by type of expert/field of specialized knowledge for quick reference. Includes a summary of the decision on whether the expert evidence was admitted or not, the reason for the admission or exclusion and the case citation to allow for further research
Discussion of the application of a new two-step process regarding the admission of expert evidence and reliability of non-scientific evidence posited by the Ontario Court of Appeal in R. v. AbbeyWho Should Buy
Expert Evidence, 3rd Edition will assist all practitioners who use expert evidence in courts, administrative tribunals and alternative dispute resolution, including:
Civil and criminal lawyers who need to use and challenge expert evidence to create compelling arguments
Judges who must determine the reliability and admissibility of expert evidence
Expert witnesses, including doctors, dentists, psychiatrists, family physicians, and engineers, who need to testify persuasively, while remaining independent
Evidence professors who teach the rules and issues of expert evidence to future lawyers
Professionals and litigants who retain lawyers to use or challenge expert evidence