Official Secrets: The Use and Abuse of the Act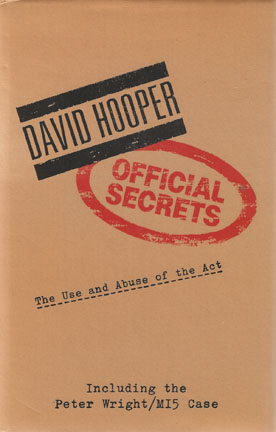 ISBN13: 9780436200946
ISBN: 0436200945
Published: January 1987
Publisher: Secker & Warburg
Country of Publication: UK
Format: Hardback
Price: £10.00
(Second Hand)

Out of Print
When his first book, Public Scandal, Odium and Contempt: An Investigation of Recent Libel Cases was published, reviewers praised its common sense, comprehensiveness and lively style. Now David Hooper turns his attention to another field of which, as a solicitor, he has had some personal knowledge. In 1911 the Official Secrets Act was passed one afternoon during the grouse-shooting season: it was hardly surprising that not all Members of Parliament were available to vote.
David Hooper examines the leading cases brought to trial decade by decade against such people as Compton Mackenzie, the two Oxford undergraduates who first exposed the activities of GCHO in the 1950s, Jonathan Aitken, Sarah Tisdall (not the first Foreign Office clerk to be prosecuted) and Clive Ponting.
He describes a host of less well-known cases, the majority of which should not have been brought or were brought for the wrong reasons against the wrong person. He deals with the interesting failure to prosecute Cabinet Ministers for breaches of the Official Secrets Act: J.H. Thomas who leaked the Budget details twice, and Richard Crossman who left his papers in Prunier's Restaurant.
The author goes on to describe the often erratic attempts by the Security Service and the D-Notice Committee to prevent the publication of books and the screening oftelevision programmes on intelligence matters, and compares the situation in this country with that prevailing in the United States, Australia and Canada where there are Freedom of Information Acts. Sections on the Sarah Keays scandal, the Westland saga and the recent, highly controversial Ml5/Peter Wright case bring the sorry history of the Official Secrets Act completely up to date.
David Hooper shows convincingly, with style and humour. that the law at present on the Statute Book is .. so vaguely drafted and all-embracing that few citizens can be absolutely sure that they will not suddenly find themselves at risk.