The Principles of Equitable Remedies: Specific Performance, Injunctions, Rectification and Equitable Damages 8th ed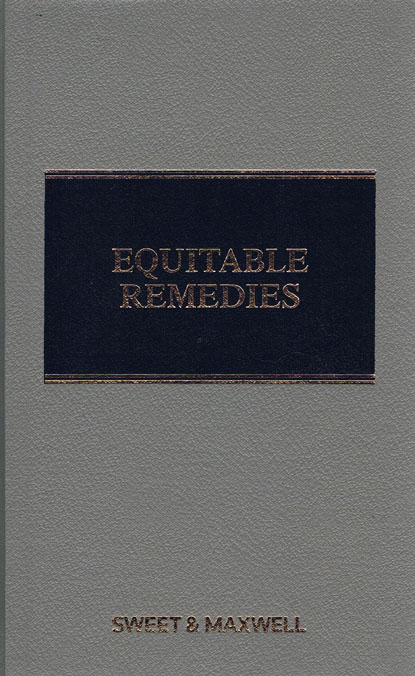 ISBN13: 9780455227498
Published: December 2009
Publisher: Thomson Reuters Australia
Country of Publication: Australia
Format: Hardback
Price: Out of print

The 8th edition of Equitable Remedies continues to uphold its reputation as an up-to-date and reliable source of information with respect to injunctions, specific performance, rectification and equitable damages.
Equitable remedies are used when a solution cannot be achieved through the courts of law. The common law remedy of damages, which is available as of right, has often proved inadequate and equity has intervened by providing a wide range of equitable remedies which are discretionary in nature. For example, when a dispute arises in relation to a contract which is unenforceable in law, through the absence of a written memorandum, the principles of equity can be used in order to overcome this and offer a solution either through an injunction, rectification or the award of damages.
Equitable Remedies is a particularly important reference book for commercial and property transactions, as well as more general equity doctrines as it will enable practitioners to become more familiar with the options available to clients.
The 8th edition has been necessitated by a series of important decisions:-
The extra-territorial effect of equitable orders has received extended analysis by the English Court of Appeal in Masri v Consolidated Contractors International (U.K.) Ltd (No 2) and (No 3), and the judgements in these two cases have wide commercial ramifications.
Further, the application of statutes of Limitation in equitable proceedings has been discussed by the Court of Appeal in P. & O. Nedlloyd B.V. v Arab Metals Co.
In National Commercial Bank Jamaica Ltd. V. Olint Corporation Ltd. the Privy Council discussed the relationship of mandatory and prohibiting injunctions, as well as the special requirements that must be satisfied before an order is made ex parte.
And in Chartbrook Ltd v. Persimmon Homes Ltd. a number of the more contentious questions relating to rectification were considered by the House of Lords.