Principles of Dispute Resolution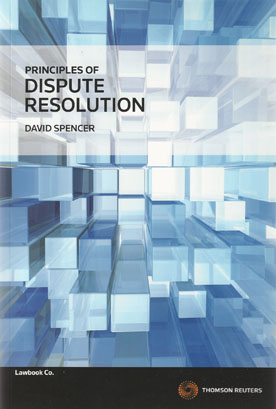 ISBN13: 9780455228815
Published: May 2011
Publisher: Thomson Reuters Australia
Country of Publication: Australia
Format: Paperback
Price: Out of print

Principles of Dispute Resolution explains the theory, philosophy and practice of dispute resolution in Australia. Professor David Spencer is the leading writer in Australia on the development of the law of dispute resolution in Australia. Utilising a practical outlook, he examines the basic methods of dispute resolution in this book.
Principles of Dispute Resolution provides up-to-date commentary on the development of the law arising from the increasing use of dispute resolution in both the law and in business. In particular, the text focuses on the new and amended legislation in both State and federal jurisdictions, along with the developing case law on dispute resolution.
Topics covered by this work include:-
Negotiation
Mediation
Arbitration
Other dispute resolution processes such as partnering, dispute review boards and collaborative law
Court annexed dispute resolution
Ethics, standards and accreditation
Legal issues
On line dispute resolution and the future of dispute resolution.
Written simply and succinctly, this text is a valuable guide to help students and practitioners alike understand the fundamentals of dispute resolution law.