Commercial Leases in Australia 6th ed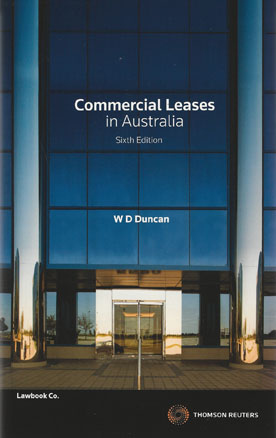 ISBN13: 9780455229379
Published: June 2011
Publisher: Thomson Reuters Australia
Country of Publication: Australia
Format: Paperback
Price: Out of print

Commercial Leases in Australia is an established and highly respected guide for legal practitioners, real estate agents, local government and students of the law and practice of commercial leasing in Australia.
Now in its 6th edition, the book examines the principles and practice of negotiating and administering commercial lease agreements in Australia, as well as providing guidance on how to manage commercial lease disputes when they arise. It also includes precedent clauses to illustrate the principles.
The 6th edition includes the following key developments:-
incorporation of the impact of the Australian Consumer Law
reflects changes to retail leasing legislation
extensive changes to chapters relating to rent review, assignment, options and default, following intense litigation in these areas since the last edition, including 2 landmark cases.
'Green leases' coverage now expanded into an entire, new chapter.
Bill Duncan again provides the reader with his expert analysis of the law relating to commercial leases. New developments are skillfully incorporated, ensuring a fresh perspective in this established resource.