Limitation of Actions: The Laws of Australia 3rd ed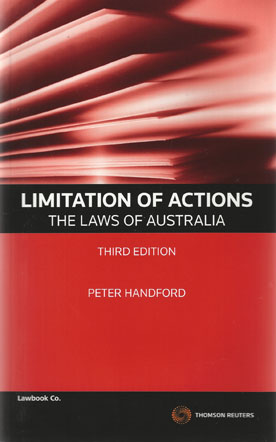 ISBN13: 9780455229874
Published: December 2011
Publisher: Thomson Reuters Australia
Country of Publication: Australia
Format: Paperback
Price: Out of print

Limitation of Actions: The Laws of Australia, 3rd Edition is the leading text on limitation periods in Australia. It is the only current and comprehensive study of limitation periods across all Australian jurisdictions.
For the Third Edition, the entire work has been revised and extensively rewritten. There is now a separate chapter on the complex topic of limitation periods in personal injury cases and the extension or postponement of limitation periods. The Third Edition also includes discussion of recent Australian and overseas case law making sense of changing legislative frameworks and other developing areas of this important subject.
This unique work is an essential reference for all Australian practitioners as a matter of professional compliance and risk management. The portable and user-friendly format is designed to save time for the busy practitioner, without compromising depth of analysis. The quick-reference Table of Limitation of Actions featured in this work, summarising the limitation periods for different classes of claims in each State and Territory, has proved to be a valuable research tool for practitioners, the judiciary and academics alike.
Author Peter Handford, Winthrop Professor of Law at the University of Western Australia, is renowned in the field of limitation of actions. His dedication to the subject brought forth the ground-breaking First Edition, and the contribution of his expertise to Limitation of Actions – The Laws of Australia, 3rd Edition ensures the continuing high standard of this important work.
This material is also published as part of Title 5 "Civil Procedure" of The Laws of Australia legal encyclopaedia.