Law Reporting in England 1485-1585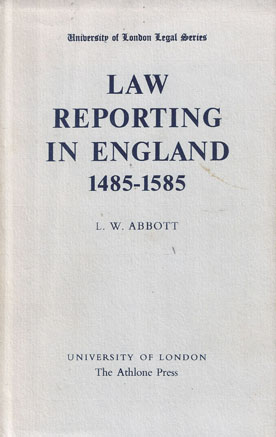 ISBN13: 9780485134100
ISBN: 0485134101
Published: August 1973
Publisher: The Athlone Press
Country of Publication: UK
Format: Hardback
Price: Out of print

Out of Print
Dr Abbott's survey examines not only the practice of law reporting in the Tudor period but also the men who constituted its chief agents and some of the significant aspects relating to. their work and professional careers.
Introductory chapters review the state of law reporting during the last phase or the Yearbook era (1485- 1535) together with the role played by the lnns of Court and the law courts of Westminster. The major part of the work is however concemed with those practitioners who assumed the function of reporters after the eclipse of the Yearbooks, notably William Bendlowes, William Dalison, Richard Harper, James Dyer and Edmund Plowden.
The book concludes with a summary of developments in the last years of the sixteenth century, with particular reference to Str Edward Coke.