Strong for Service: The Life of Lord Nathan of Churt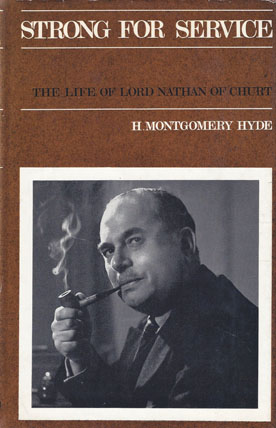 ISBN13: 9780491004718
ISBN: 0491004710
Published: December 1968
Publisher: WH Allen
Country of Publication: UK
Format: Hardback
Price: Out of print

Out of Print
This is the story of a highly successful London lawyer of immense vitality, both physical and mental, whose career outside his home and his office was largely devoted to public work. He was one of the original officers in the Territorial Army; in 1915, at the age of 26, he commanded a Battalion in the ill-fated Dardanelles expedition; he later served with his Regiment in France, where he was badly wounded.
He was eventually able to return to his law firm of Herbert Oppenheimer, Nathan & Vandyk, where he had a wide circle of wealthy and influential clients, such as Sir Alfred Mand (Lord Melchett), founder of LC.I. Through Mand, Nathan was introduced to politics as a Liberal, and he entered the House of Commons in 1929.
Four years later, dissatisfied with Liberal policies, he joined the Labour Party. In 1940, he was created a peer and later was ap-pointed Under-Secretary of State for War, with particular responsibility for demobilisation. For three years he served as Minister of Civil Aviation.
At the same time, Lady Nathan, who had always interested herself in local government, became Chairman of the London County Council, a remarkable if not unique example ofa husband-and-wife partnership in public as well as private life.
Lord Nathan chaired many institutions ranging from the Westminster Hospital, the Wolfson Foundation, and the Brady Boys Club in the East End of London, to the Royal Geographical Society, the Mount Everest Foundation, and the Royal Society of Arts.
He died in 1963. Mr. Montgomery Hyde, who knew him personally, has written an engaging biography based on the private papers of this genial and kindly solicitor with an outstanding sense of public duty, who once described himself as an Englishman who was a Jew, and a Jew who was an Englishman, adding that he was 'proud to be both'.