In the Clutches of the Law: Clarence Darrow's Letters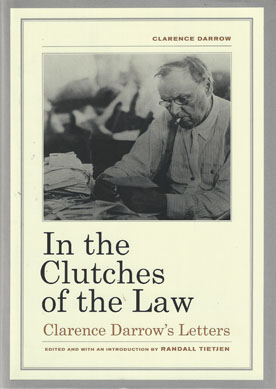 ISBN13: 9780520265585
Published: July 2013
Publisher: University of California Press
Country of Publication: USA
Format: Hardback
Price: £77.00

In the history of American law, no courtroom lawyer has achieved more renown than Clarence Darrow (1857-1938). He is remembered for many famous cases, including the Scopes trial, where he defended a school teacher charged with the crime of teaching evolution, and the Leopold and Loeb case, where he argued against the death penalty for two young men who had brutally murdered a young boy.
He practiced law for over fifty years. Many of his clients were desperate, poor, and unable to pay for his services. Many were political radi¬cals. He gave stirring addresses to juries and delivered countless speeches outside the courtroom, arguing a peculiar mix of skepticism, pessimism, and reform, speaking on subjects as diverse as literature, philosophy, politics, and civil liberties. His personal life was filled with drama, including two trials in which he stood trial himself for jury bribery.
This volume presents 502 letters by Darrow, selected by Randall Tietjen from over 2,200 let¬ters in archives around the country, as well as from one remarkable find-every historian's dream: a cache of about 330 letters by Darrow hidden away in the basement of Darrow's granddaughter's house.
This collection pro-vides the first scholarly edition of Darrow's letters, expertly annotated and including a large amount of previously unknown material and hard-to-locate letters, revealing the personality, interests, ambition, activities, and philosophy of the most famous lawyer in American history.
Darrow was a gifted writer who led a fascinating life, and his letters are a delight to read. This volume also presents a major introduction by Tietjen, along with a chronology of Darrow's life and brief biographical sketches of the im¬portant individuals who appear in the letters.