Cases and Materials on Constitutional and Administrative Law 2nd ed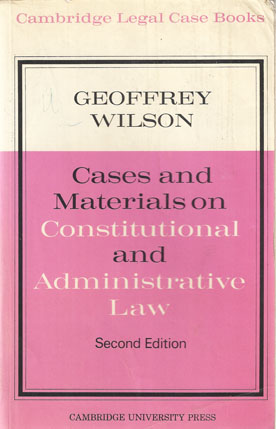 ISBN13: 9780521099592
ISBN: 0521099595
Published: September 1976
Publisher: Cambridge University Press
Country of Publication: UK
Format: Paperback
Price: £15.00
(Second Hand)

The first edition of this book was remarkable in that it represented a new departure in case books on constitutional law. Not only did it include leading cases, but also extracts from parliamentary debates, official reports and other sources.
The book presents a lawyer's view of the British Constitution (but not one confined to the activities of the courts), emphasising the problems it faces as well as the rules and principles it has designed to meet them.
The basic problems of the relationship between the citizen and the State and the balance between fundamental liberties and the maintenance of order are' given a prominence which reflects their central importance to a proper understanding of the relevance of constitutional law to. the needs of contemporary societies through- out the world.
Events since the first edition appeared have served to strengthen the appeal of Professor Wilson's approach. This new edition covers the many problems that have faced the British Constitution since the first edition appeared in 1966. The most significant is, of course, the long emergency in Northern Ireland, and the spread of violence associated with it to England.
A Parliamentary Commissioner has been established to help the citizen faced with maladministration in the civil service. Parliament is experimenting with specialist commit¬tees, and the constitution is finding the need to accommodate the changes brought upon it by Britain's membership of the European Economic Community. The whole book, like the preceding edition, shows a western democracy at work changing its constitutional methods of working to take account of shifting demands made on it.