Natural Law Liberalism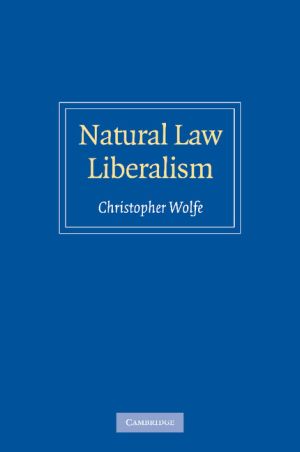 ISBN13: 9780521140607
Published: October 2009
Publisher: Cambridge University Press
Country of Publication: UK
Format: Paperback (Hardback 2006)
Price: £30.99

Despatched in 7 to 9 days.
Political philosophy and natural law theory are not contradictory, but - properly understood - mutually reinforcing. Contemporary liberalism (as represented by Rawls, Guttman and Thompson, Dworkin, Raz, and Macedo) rejects natural law and seeks to diminish its historical contribution to the liberal political tradition, but it is only one, defective variant of liberalism. A careful analysis of the history of liberalism, identifying its core principles, and a similar examination of classical natural law theory (as represented by Thomas Aquinas and his intellectual descendants), show that a natural law liberalism is possible and desirable.
Natural law theory embraces the key principles of liberalism, and it also provides balance in resisting some of its problematic tendencies. Natural law liberalism is the soundest basis for American public philosophy, and it is a potentially more attractive and persuasive form of liberalism for nations that have tended to resist it.
Unique in proposing a form of liberalism rooted in natural law theory
Offers a relatively non-technical description of natural law theory intended to be compatible with contemporary forms of natural law theory
Describes and defends a form of liberalism compatible with traditional morality and religion