The OECD Convention on Bribery: A Commentary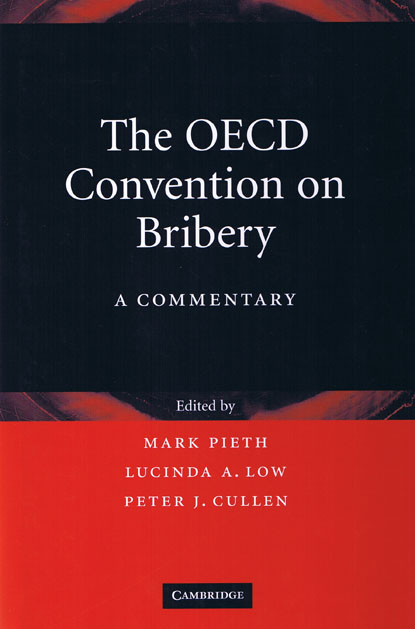 ISBN13: 9780521868174
Published: March 2007
Publisher: Cambridge University Press
Country of Publication: UK
Format: Hardback
Price: Out of print

The OECD Convention is the first major international treaty specifically to address 'supply-side bribery' by sanctioning the briber. The OECD Convention establishes an international standard for compliance with anti-corruption rules by 36 countries, including the 30 OECD members and six non-member countries, with the leading OECD exporting countries receiving particular attention.
This book is an article-by-article commentary which gives particular attention to the results of the OECD monitoring process as applied to state implementation. Companies in particular are at ever greater risk of legal and 'reputational' damage resulting from failure to comply with the anti-corruption standards set inter alia, by the OECD Convention.
This book provides them with comprehensive guidance on the OECD standards. The commentary also constitutes a significant work of comparative criminal law. It is written and edited by persons who include experts involved in development of the Convention standards as well as academics and legal practitioners.
This is the first book to give detailed commentary on OECD Convention: there is urgent need to provide guidance to legal community on this instrument, which has been implemented recently in national law
Comprehensive coverage of implementation of anti-bribery Convention in all OECD countries
Scholarly but practical: written from a legal standpoint but with awareness of political context and practical constraints on enforcement