The Foundations of English Administrative Law: Certiorari and Mondamus in C17th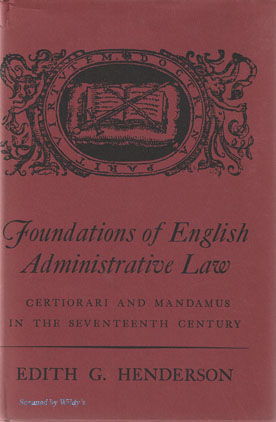 ISBN13: 9780674313514
ISBN: 0674313518
Published: July 1963
Publisher: Harvard University Press
Country of Publication: USA
Format: Hardback
Price: £33.00
(Second Hand)

Out of Print
The copy for sale has no dustjacket
Preface In this study of the early roots of modern administrative law I have been encouraged and aided by the Harvard Law School-for although the school rightly considers its chief function to be the training of practicing lawyers, it has always taught law "in the grand manner" and has encouraged and sought "out scholars to take advantage of its magnificent historical collections.
I particularly wish to thank Professor Louis L. Jaffe, who suggested the problem, stood by me in the first difficult stages of learning my way into legal-historical materials, and helped me greatly to clarify my thinking; and Professors Mark Howe and Samuel E. Thorne.
Thanks are also due to the United States Educational Commission for a Fulbright grant in 1955-56 which enabled me to do research in the Public Record Office; and to the Harvard Law School Library which as my employer in recent years has been more than tolerant of the time required for research and writing on this scale.
The materials upon which this study is based are both historical and legal. It is hoped that it will interest both lawyers who wish to know more about the early development of their profession-a profession which in common-law countries can look back on more than seven hundred years of unbroken development-and historians who realize the importance of the legal framework within which a society operates at any given period.
E.G.H.