Members of the Jury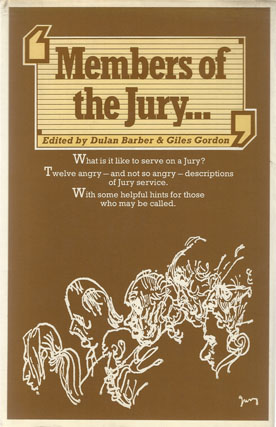 ISBN13: 9780704501768
ISBN: 0704501767
Published: January 1976
Publisher: Wildwood House
Country of Publication: UK
Format: Hardback
Price: Out of print

This is the first book ever written about jury service by jurymen and women. Jury service is an experience which is likely to be under­ gone by the majority of us at sometime or other in our lives.
For this reason every citizen who has served on a jury will find the book of enormous interest: and every citizen still awaiting the call to serve on a jury will welcome the book as a guide book to use when the summons arrives.
Giles Gordon and Dulan Barber have selected their contributors very shrewdly. Although they are a 'mix' of professional and non­ professional writers all succeed in conveying the feel of jury service with immediacy and making the reader share its moral pressures and all provide the juror-to-be with a great deal of vital information on problems and procedures.
In addition to the twelve jurors the book includes contributions by a court usher, a jury bailiff and a barrister. Among the contributors are Jeremy Brooks, Alan Wykes, Harry Cohen, Jeremy Potter, C. H. Rolph, Oliver Milton, Alfred Eaton, Nemone Lethbridge.