The Story of Titles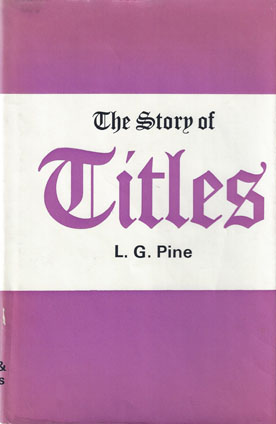 ISBN13: 9780715346631
ISBN: 0715346636
Published: January 1969
Publisher: David & Charles
Country of Publication: UK
Format: Hardback
Price: Out of print

Out of Print
Hopefully aspmng to them or strongly disapproving of them, few people are unaffected by titles-in an age when even a plain Mister has 'a handle to his name'. The sources of titles and honours of nobility have dwindled rapidly in the modern world, as monarchs and potentates have given place to republics; but there is still a fascination, and much to be learnt, in a study of the origins and usage through the ages of the vast and intricate structure of titles.
This book traces the evolution of that structure throughout the world against the historical background of the countries concerned. It describes the systems of Imperial Rome and the old Republic to which we owe a series of titles-emperor, prince and lord among them - which have endured to the present day, and shows how many of the terms of reverence or self-glorification-Your Excellency, Your Eminence, Exalted Highness-borne by the VIPs of the modern world find their origin in the usages of the Byzantine court of the third century.
The story goes on to examine the systems and meanings of titles in Western Europe from the early Middle Ages to the surviving monarchies of the present day. The English Royal Styles and the British Titled System are fully dealt with, there are chapters on Ecclesiastical Titles and on the honours accorded the erst¬while princely rulers of India, while other sections range in subject from the old nobility of China and Japan to Highland and Irish chieftains and the styles of address for diplomats and ministers of state.