Justice: A Tragedy in Four Acts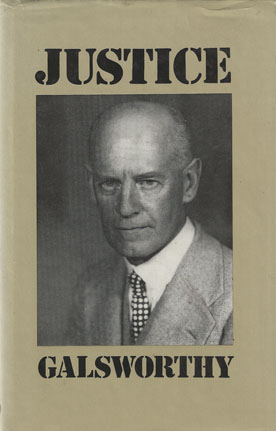 ISBN13: 9780715612217
ISBN: 0715612212
Published: June 1964
Publisher: Gerald Duckworth & Co. Ltd
Country of Publication: UK
Format: Hardback
Price: Out of print

Out of Print
Justice is a famous and savage indictment of the English penal system as it stood at the start of this century. In September 1907 Galsworthy visited Dartmoor Prison, and five other prisons later.
Justice, first produced in 1910, was instantly effective in getting the authorities to reduce the periods of solitary confinement to which prisoners could be subjected; his great scene (Act Three, Scene Three) in which the prisoner Falder, all alone in his cell, acts in complete silence for ten minutes, was largely responsible for this.
Falder, aged 23, is a solicitor's clerk who forges a cheque to get money to give his girlfriend, and the central scene of the play is his trial, with speeches and summing-up in full. In Act Four Falder is released from prison and returns to his old office; but the police are after him again, and the end of the play justifies its sub-title 'A Tragedy'. Falder is crushed by the very machinery of justice which it was his job to serve.
First Published February 1910
Twenty-seventh impression December 1959
This edition 1964
Reprinted June 1965, May 1968
Reprinted in larger format 1977