A Slight Case of Libel: Meacher v Trelford and Others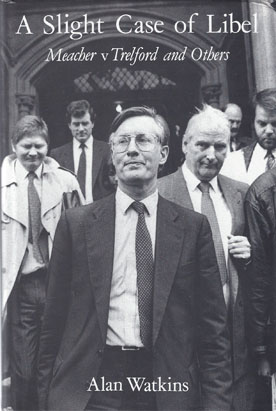 ISBN13: 9780715623343
ISBN: 0715623346
Published: June 1990
Publisher: Gerald Duckworth & Co. Ltd
Country of Publication: UK
Format: Hardback
Price: Out of print

Out of Print
Alan Watkins had been writing a political column for twenty-five years (for the Sunday Express, the Spectator, the New Statesman and the Observer) when, in summer 1988, he found himself in the Law Courts accused of libel.
The plaintiff was a well-known Labour MP and Shadow Minister, Michael Meacher, who was suing him for words he had written in his Observer column four years before. At the time they had caused no stir. Watkins wrote that Meacher liked to claim that his father was an agricultural labourer, whereas in fact he was an accountant. He wrote too about the resignation from the party of a former Labour MP, Eric Moonman on account of an intrusive questionnaire dispatched by Meacher to Health Authority chairmen. Watkins compared Meacher and Moonman, to the louse and the flea celebrated by Dr Johnson.
After a trial lasting nearly three weeks, Meacher lost - the first plaintiff in over 50 cases to lose to a journalist. The trial was also exceptional and maybe unique in that a politician was suing a political journalist who was himself a qualified barrister. This extraordinary case, in the great comic tradition of English libel suits, held legal, journalistic and political London enthralled - not least because Meacher, through an error by his counsel, had to undergo the ordeal of recall to the witness box.
The principal defendant now gives an always lucid and sometimes hilarious account of it, making full use of the original sources at his disposal.