May it Please Your Lordship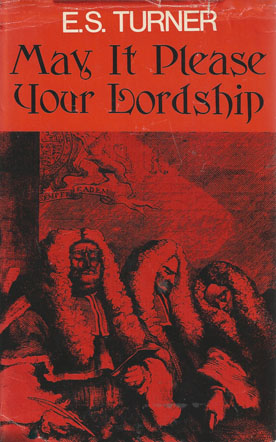 ISBN13: 9780718107376
ISBN: 0718107373
Published: June 1971
Publisher: Michael Joseph Ltd
Country of Publication: UK
Format: Hardback
Price: Out of print

Out of Print
This is an unobsequious study of the Man in Ermine, starting in the days when one was as likely to be hanged by an abbot as by a judge.
It tells how the King's courts and assize circuits were built up by the Plantagenets; how judges were repeatedly purged for corruption and extortion; how they were thrown into dungeons by barons; how they were liable to be lynched in peasant risings; how, after the great show-down with the Stuarts, they ceased to be royal jackals and became the people's watchdogs; and how, after some ten centuries, they allowed themselves to become political neuters.
Throughout the emphasis is on judges as human beings, variously witty, brutal, wise, time-serving, eccentric, magnilo-quent. Some judges tried harder than others to acquit witches. Some wept as they sentenced droves of men to death, even though the prisoners yawned and cracked nuts. Some ordered that a man to be branded in court should have the benefit of a cool iron ('Good mark, my lord,' the court official would report, afterwards).
Some judges loved moralising to the Grand Jury, others took the opportunity to complain about their lodgings. Some dispensed patient justice before the dinner recess, impatient justice afterwards. Here are the rogue judges, Jeffreys and Scroggs, and that ineffable Scot, Lord Braxfield, who told an offender: 'Ye're a vera clever chiel, man, but ye'd be nane the waur o' a hangin'.'
Here, too, is Mr Justice Vaughan telling the doomed Luddites that it is every man's right to do exactly what he wants with his own capital. Judges frustrating attempts at impeachment, judges wiped out by gaol fever, judges rebuked by the Bar for their rudeness and intolerance, Lord Ellenborough using his chamber-pot on the Bench - it's all here, in this rich slice of social history.