Stone's Companion Guide to Sentencing Part One: Specific Offences 2nd ed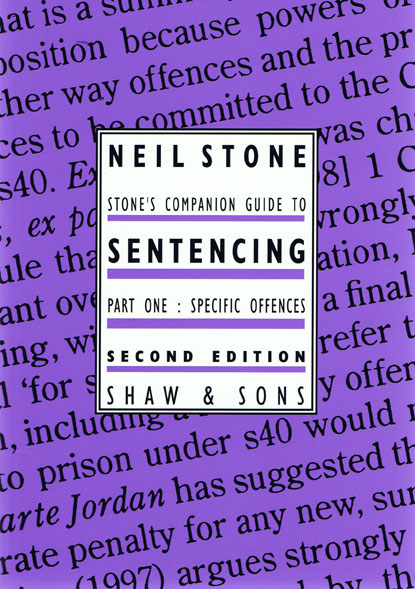 ISBN13: 9780721916231
Published: March 2010
Publisher: Shaw & Sons Ltd
Country of Publication: UK
Format: Paperback
Price: £29.00

The first of two books on sentencing law, principles and practice, Specific Offences is an invaluable reference work for the writers of pre-sentence reports when seeking objective guidance on the seriousness of an offence.
Part of the outstanding Companion Guides series on law and practice for the criminal justice system originated by Nigel Stone, this important book catalogues common offences, from arson to unlawful sexual intercourse, for which authoritative guidance (by the Magistrates' Association and by Court of Appeal judgments) has been given.
Succinct definitions are provided for each offence, including categorisation according to trial venue – 'summary', 'either way' or 'indictable only' – and maximum sentence. Assistance is offered as to how to assess an offence's seriousness, in the light of the aggravating and mitigating factors of the crime in question, and each offence featured is supplemented by illustrative case examples.
Completely revised and updated to a second edition by Neil Stone (no relation), this book explores such recent developments in offending as breaches of Anti-social Behaviour Orders and takes account of the significant changes to the sentencing framework brought about by the Criminal Justice Act 2003.
It will prove to be an invaluable work for all probation offi cers and other criminal justice practitioners, lawyers, and other professionals who need an accessible but comprehensive sourcebook on the subject.