Irish at Law: A Selection of Famous and Unusual Cases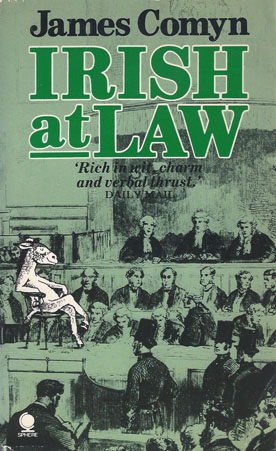 ISBN13: 9780722125618
ISBN: 0722125615
Published: May 1983
Publisher: Sphere Books Ltd
Country of Publication: UK
Format: Paperback (Hardback in 1981)
Price: Out of print

Out of Print
During the last two hundred and fifty years, Irish Courts at all levels have witnessed many famous cases of resounding political importance as well as of fundamental social consequence. Some of the greatest wits have chosen the Courtroom as the stage upon which to display their wares, be they judge, barrister or prisoner, making speeches or devising epigrams that have entered the language.
In this collection of cases, historic and rakish, from the middle of the seventeenth century until recent times, James Comyn has chosen those which, for him, reflect both the often tempestuous course of Irish history alongside, and sometimes tragically coupled with, the underlying humour of the Irish people. With clarity and insight he re-evaluates, among others, the trials of Oliver Plunket, Wolfe Tone, Robert Emmet, Daniel O'Connell, Oscar Wilde and Erskine Childers — cases which lie at the roots of Irish development.
Perhaps the greatest advocate in Irish legal history was John Philpot Curran, and here we are treated to many examples of his brilliant oratory, which, combined with studies of Chief Baron Palles, Peter O'Brien and Tim Healy, provide a rich harvest of language, wit and anecdote.
James Comyn has produced a remarkable book which serves as a miniature Irish legal history that will inform, amuse and divert all who wish to understand further or learn more about Ireland.