Construction Dispute Resolution Handbook 2nd ed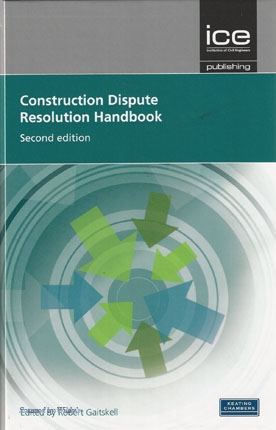 ISBN13: 9780727741455
Published: May 2011
Publisher: ICE Publishing
Country of Publication: UK
Format: Hardback
Price: Out of print

Construction Dispute Resolution Handbook provides construction professionals and lawyers with straightforward and pragmatic advice on dealing with construction disputes, at all stages, using principles that are applicable internationally.
Written by a team of dual-qualified barristers and professional engineers, the second edition of this popular handbook covers the complete spectrum of dispute resolution expertise required by construction professionals, including advice on how to avoid potential disputes.
All seven forms of construction dispute resolution – arbitration, adjudication, litigation, mediation, dispute boards, expert determination and early neutral evaluation are explained and compared with practical help and guidance on making effective use of the procedures available, selecting the right methods and the best strategy for satisfactory resolution of disputes when they arise and to minimise the time and costs expended, all with a view to enabling clients to avoid or resolve disputes efficiently and cost effectively.
The Construction Dispute Resolution Handbook:-
Includes practical advice on how to avoid potential disputes
Gives practical step-by-step assistance to cope with disputes that do occur
Advises on how to make effective use of the whole range of procedures available
Covers the most common but also the lesser known procedures
Contains checklists, model notices, mediation papers, pleadings and other useful documents
Construction Dispute Resolution Handbook
is a concise, practical guide to dealing with construction disputes. Written in an easy-to-read style with practical examples it is an essential and informative read for both professionals and students.