The Anatomy of the Nuremberg Trials: A Personal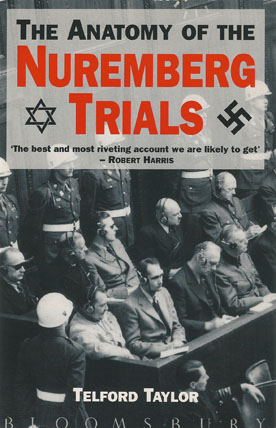 ISBN13: 9780747515012
ISBN: 0747515018
Published: April 1993
Publisher: Bloomsbury Publishing Plc
Country of Publication: UK
Format: Paperback
Price: Out of print

Out of Print A history of the Nuremberg war-crimes trials by one of the key participants, Telford Taylor, the distinguished American lawyer who was a member of the prosecution staff and eventually became chief counsel. His legal expertise is complemented by an intimate knowledge of what took place outside the courtroom before and during the trials, which began in November 1945.
Taylor reveals details of fierce infighting and personal vendettas among the Allied representatives; the prosecutors brilliance and their astonishing blunders; the judges private observations on the daily proceedings; and the negotiations that preceded the sentencing.
This book makes clear the magnitude of the clashes that took place between those determined to secure justice and those bent solely on retribution.;No less riveting are the author's portrayals of Goering, Hess, Ribbentrop and Speer as the trials progressed. What unfolded in the courtroom exposed the full horror of the acts that had been committed.
The chamber was reduced to silence when an SS officer recounted impassively how his troops had rounded up and killed 90,000 Jews; panic overcame the head of the German State Bank as it became apparent that he had knowingly received jewels and other valuables taken from the bodies of concentration camp victims; and the judges departed visibly shaken by the first public showing of films depicting the concentration camps and their inmates as they were when liberated. Taylor also provides new details regarding Goering's suicide.