Enlightenment, Legal Education, and Critique: Selected Essays on the History of Scots Law, Volume 2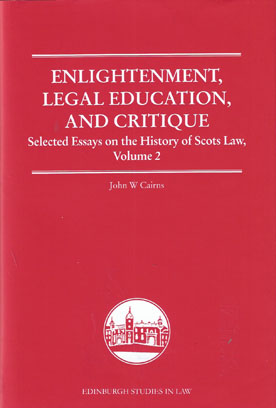 ISBN13: 9780748682133
Published: July 2015
Publisher: Edinburgh University Press
Country of Publication: Scotland
Format: Hardback
Price: £90.00

The second volume in a collection of the most influential essays on the Legal History of Scotland from the career of John W. Cairns.
Enlightenment, Legal Education, and Critique deals with broader themes in legal history, such as the development of Scots Law through the major legal thinkers of the Enlightenment, essays on Roman law and miscellaneous essays on the literary and philosophical traditions within law.
Both volumes collect together and reprint a selection of some of the many articles and essays published by Professor John W. Cairns over a distinguished career in Legal History.
It is a mark of his international eminence that much of his prolific output has been published outside of the UK, in a wide variety of journals and collections. The consequence is that some of his most valuable writing has appeared in sources which are difficult to locate.