Guru in a Bottle: Essential Law for Marketers 2nd ed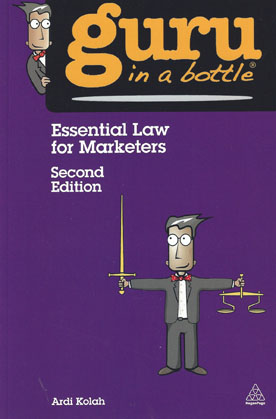 ISBN13: 9780749464509
Published: January 2013
Publisher: Kogan Page Ltd
Country of Publication: UK
Format: Paperback
Price: £19.99

Taking into account all recent changes in UK and European law, this book will be required reading on many sales, marketing, public relations and advertising diploma and degree courses in the UK.
This no-jargon and easy to read business book is ideal for anyone involved in sales and marketing - whether you are at the pinnacle of your career as a director of marketing or business development, a senior marketing manager or are new to the marketing discipline.
Ignorance of the law can result in infringement of someone else's intellectual property rights, expensive lawsuits, cancelled marketing campaigns, damage to reputation that takes years to repair and potentially a down turn in profits and share price.
In extreme cases, it can even lead to insolvency and a prison sentence. This book, by one of the world's leading exponents of sales and marketing law helps to steer the reader through the legal minefield as well as provides strategies for using law as a competitive marketing weapon.