Economic Negligence: The Recovery of Pure Economic Loss 6th ed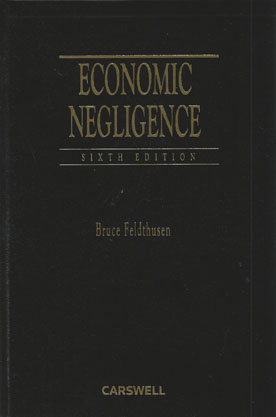 ISBN13: 9780779849307
Published: April 2012
Publisher: The Carswell Company Ltd.
Country of Publication: Canada
Format: Hardback
Price: £110.00

Economic Negligence: The Recovery of Pure Economic Loss 6th Edition draws upon the law of Canada, the United States, United Kingdom, Australia, and New Zealand to provide a comprehensive treatment of this area of tort law. The work includes chapters devoted to each major category of economic loss:-
Negligent misrepresentation
Negligent performance of a service
Damages relating to defective products or building structures
Relational economic loss
Liability of statutory public authorities
Each chapter provides an up-to-date assessment complete with the latest developments, as well as commentary and analysis to help find practical solutions to problems in recovering pure economic loss in each category.
Now revised and updated, since publication of the first edition in 1984, Economic Negligence has been the essential guide for practitioners and students for understanding the complex issues surrounding claims for economic loss.
The sixth edition updates the case law, legislation, and scholarly discourse on the policies surrounding the recovery of economic loss. The new edition provides a complete and up to date analysis of the area, analyzing the most recent cases and pointing toward future developments.