Constitutional Damages Worldwide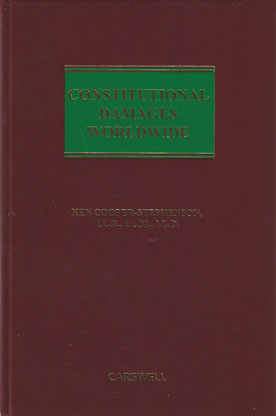 ISBN13: 9780779855070
Published: September 2013
Publisher: The Carswell Company Ltd.
Country of Publication: Canada
Format: Hardback
Price: £160.00

Constitutional Damages Worldwide explores, in detail, the elements and sub-issues that arise in constitutional damages claims as well as addressing the theoretical basis for the claims. The case law in this area is developing at a rapid pace worldwide.
Courts in many jurisdictions, particularly final courts of appeal, are making reference to cases decided in other countries, which appears to be a growing phenomenon, partly because the area is so new in many jurisdictions.
This is an expanding area of law in almost all jurisdictions. The United Kingdom is beginning to develop its own case law under the Human Rights Act, and New Zealand continues to grapple with cases under the Bill of Rights. In Canada, the Supreme Court handed down its decision in City of Vancouver v. Ward, finally endorsing and structuring the constitutional claim.
Within the past eight years, cases have recently emerged from Belize, Samoa, Tonga, Malaysia, Barbados, Fiji, St. Lucia, Anguilla, Botswana, the Philippines, Antigua and Barbuda, and Estonia. As well, two major jurisdictions, Ireland and New Zealand, have very handed down decisions on the crucial question of judicial immunity from constitutional damages claims.
Constitutional Damages Worldwide is a valuable resource on the treatment and theoretical basis of constitutional damages claims around the world, offering practitioners a solid background for developing claims in all jurisdictions.