International Law of the Sea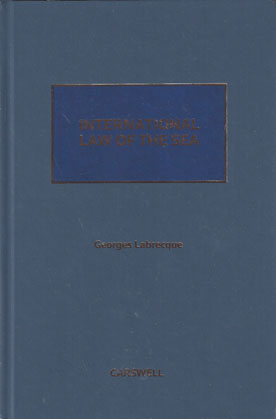 ISBN13: 9780779867066
Published: December 2015
Publisher: The Carswell Company Ltd.
Country of Publication: Canada
Format: Hardback
Price: £230.00

Usually despatched in 1 to 3 weeks.
This book is a comprehensive and accessible treatise for students, academics, professionals and policy-makers interested in the institutions, processes, concepts and rules underlying the international law of the sea.
Given the crucial importance of international tribunals in law of the sea, some of these topics are re-examined through recent case law. Although international in scope, some regional issues are analysed, in particular Canada and the Arctic.
The 1982 United Nations Convention on the Law of the Sea is one the most important international instruments, and qualified as the "Constitution for the oceans". Case law is also crucial in international law of the sea, in particular issues regarding maritime boundaries and it is extensively cited in the book.
The book adopts a global, general and theoretical treatment of the subject, while numerous examples are given to show how some facts or events are in compliance with law or, on the contrary, breach the rules: e.g., Chapter 4, section 4.3, scrutinizes legal instruments that regulate activities on the high seas and describes some recent incidents in violation of law (piracy and armed robbery against ships, terrorism, human smuggling, drug trafficking, illegal fishing, and other)
Chapter 11 shows how Canada has an extensive legislation (the 1996 Oceans Act), generally in conformity with the 1982 United nations Convention on the Law of the Sea.