The Triumph of the Lawyers: Their Role in English Politics 1678 - 1689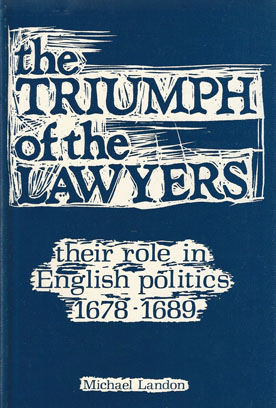 ISBN13: 9780817354015
ISBN: 0817354018
Published: April 1970
Publisher: University of Alabama Press
Country of Publication: USA
Format: Hardback
Price: £15.00
(Second Hand)

Out of Print
The point of departure for this work is a statement of G. M. Trevelyan in the English Revolution, 1688-1689 (New York, 1939), as follows: The Revolution Settlement was first and foremost the rule of law. It was the triumph of the Common Law and lawyers over the King, who had tried to put prerogative above the law.
Just who were these lawyers? Precisely how did they go about achieving their "triumph"? In seeking answers to these questions, Professor Landon provides a long-needed survey of the part played by lawyers in English politics during the tumultuous decade that be¬gan with the revelation of a fictitious "popish plot" and ended with the offer of the English throne to William and Mary and the passage of a Bill of Rights by Parliament.
The book begins with a general description of the legal profession in seventeenth-century England and the political and constitutional views held by most of the leading jurists of the day. This is followed by detailed accounts of the careers of seven outstanding lawyers-Robert Atkins, William Jones, John Maynard, Henry Pollexfen, George Treby, William Williams, and Francis Winnington-who were actively associated with the Whig opposition to the Crown during all or part of the period.
Principal emphasis is given to their activities in both local and national politics and in the great state trials of the period, and especially their roles in the "Exclusion parliaments" of 1671-1681, in the opposition to the Crown's campaign to replace the corporation charters by Quo Warranto actions, 1681-1685, in the trials connected with the Rye House Plot of 1683, in the Trial of the Seven Bishops in 1688, and in the revolutionary activities of 1688-1689.
Professor Landon's conclusions compel attention. He finds that while the lawyers did indeed play a unique and significant part in the politics of the period, Trevelyan's statement, quoted above, needs to be qualified somewhat.