The Memoirs of Lord Coutanche: A Jerseyman Looks Back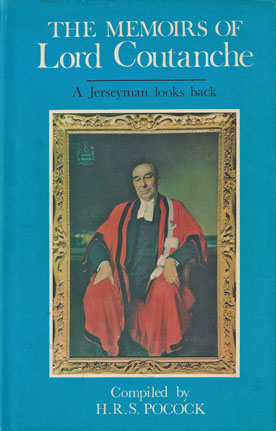 ISBN13: 9780850332100
ISBN: 0850332109
Published: April 1975
Publisher: Phillimore & Co Ltd
Country of Publication: UK
Format: Hardback
Price: Out of print

Out of Print
Lord Coutanche was Bailiff of Jersey from 1935 to 1961. It is doubtful whether any other Bailiff in the Island's long history spanned such an eventful period, with the German occupation dominating the first decade; and the present pattern of Jersey's life and economy being established during the years leading up to his retirement.
When Lord Coutanche retired, the compiler of this book made many attempts to induce him to write his memoirs, without success. But, eventually, Mr. Pocock persuaded him to record the events of his public life on tape and by reason of this perseverance we now have the text of what is, in effect, a ghost-written autobiography. Jerseymen and historians have cause to be grateful to Mr. Pocock. He has produced a vivid, first-hand account of history in the making.
Lord Coutanche has been described as a showman, as a "thruster", and as an autocrat. He was certainly one of the friendliest, kindest and warmest of men, and these illustrated memoirs will reveal to all the islanders of Jersey-and, indeed, to people in many parts of the world-the enormous part he played in its history during his long service in the office of Bailiff.
Everyone who knew Lord Coutanche or who knew Jersey between the thirties and the sixties, will find this book both a fascinating "read" and a work they will want to refer to again and again. It well warrants a permanent place on the book-shelves of all with interest in the modern history of Jersey. It is also a fitting tribute to the public career of a remarkable man.