Linklaters & Paines: The First One Hundred and Fifty Years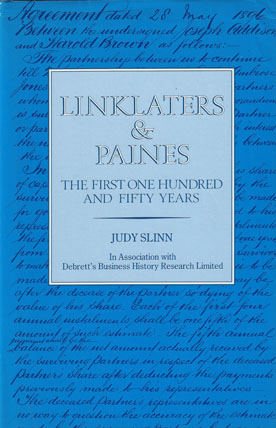 ISBN13: 9780851213972
ISBN: 0851213979
Published: November 1987
Publisher: Longmans
Country of Publication: UK
Format: Hardback
Price: Out of print

Out of Print
Solicitors in the City of London have always differed from the rest of the profession because of the nature of the business with which they are involved. Today the size of the largest firms, including Linklaters & Paines, differentiates them in an even more striking fashion. But like many another firm of solicitors, the origins of Linklaters & Paines lie in the first half of the nineteenth century.
This book tells of how John Linklater and Thomas Paine, in 1838 and 1844 respectively, started to practise law with separate firms in London. It explores their family backgrounds and education and discusses their clients and professional life and the development of their practices. Set in the context of the economic development of the U.K., the story is told of the further progress of the firms under the successors of John Linklater and Thomas Paine and how, in 1920, the two came together to form Linklaters & Paines.
The story continues with a picture of the firm in the interwar years, of partners, staff and office practices at a time when legal practitioners in the City had to cope with the problems created by a difficult economic environment. World War II was followed by major reconstruction - both financial and physical - in the City and then steady ex¬pansion took place until the early sixties when the pace of change accelerated. The revolution in communications over the last two decades has helped to foster the international economy which in turn has stimu¬lated the growth of overseas business for the large City law firms.
Until relatively recently the histories of individual firms of solicitors went largely unexplored; yet such a history not only has an intrinsic interest but it also throws light on the profession generally and contributes a view of the City from a different angle.