Faces of Law: Photographs by James F. Hunkin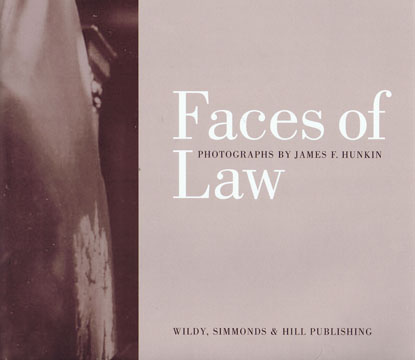 ISBN13: 9780854900275
Published: March 2009
Publisher: Wildy, Simmonds and Hill Publishing
Country of Publication: UK
Format: Hardback
Price: £45.00

Faces of Law is a unique photographic chronicle of 100 people working in the legal profession at the beginning of the 21st century. It forms part of an on-going chronicle - Faces of Britain. The collection covers a broad spectrum of activities including some of the comuntry's most respected judges, solicitors and barristers as well as support staff and others.
Each portrait is accompanied by a personal testimony providing a fascinating insight into the working lives and ideas of the men and women who help shape our society.
About The Author
James Hunkin has been photographing people for nearly twenty years. Following a commission by the National Theatre to take portraits of their leading actors, writers, and directors, he has since photographed Britain's religious leaders, as well as some of the country's leading artists and architects for the Royal Academy and Britain's leading scientists for the Dept. of Education. 'Faces of Law' represents the latest chronicle in an on-going series.
He has exhibited at the National Theatre, National Portrait Gallery and Royal Academy and has had two previous publications, Changing Faces and Faces of Faith.
'This remarkable collection of photographs shows the faces of lawyers from all over the legal landscape. It shows the variety of what lawyers do and the variety of lawyers who do it. The words they have chosen, tell us something of how they think or feel about what they do but the photographs tell us even more about them. It all adds up to an intriguing picture of the British legal system as it is today'.
Baroness Hale of Richmond, Law Lord