Expanding the Horizons: On Active Service in Law and Education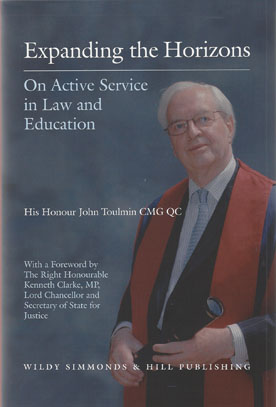 ISBN13: 9780854901081
Published: April 2012
Publisher: Wildy, Simmonds and Hill Publishing
Country of Publication: UK
Format: Hardback
Price: £25.00

With a Foreword by The Right Honourable Kenneth Clarke, MP, Lord Chancellor and Secretary of State for Justice
In Expanding the Horizons: On Active Service in Law and Education John Toulmin reflects on his varied contributions both nationally and internationally in stimulating the development of the seven organisations in which he has been involved. He tells the story through speeches and articles by him and in his honour and looks at future developments.
The book begins with Valedictory speeches on his retirement as a Judge, and with a tribute by the Director of the European Law Academy (ERA), of which he was Chairman of Trustees from 1997-2010. It continues with developments in civil procedure, access to justice, dispute resolution and the author's proposals for reform.
Expanding the Horizons contains the last liability judgment in "Factortame", one of the most famous European and UK cases, and it deals with one other case illustrative of construction litigation and of the changes proposed earlier in the work. The story continues with the author's 1993 Presidency of the CCBE (European Bar Council) starting with "Our Worldwide Legal Profession", a keynote lecture at the University of Michigan in 1993, and a 2001 lecture describing his negotiation of the GATT/Uruguay Round, on behalf of the legal profession, and leading role in the Lawyers' Establishment Directive, both of which expanded legal horizons.
This section includes an article in Fordham International Law Journal 1992 arguing for a worldwide code of professional ethics, and a chapter entitled "Professional Rules and Ethical Ideologies", based on a 1997 seminar tracing the transformation of legal practice over 30 years, and arguing against multi-disciplinary practices.
The book goes on to set out the development of the European Court of Justice and the Court of First Instance (now the general court), particularly relevant to the current scrutiny of the European Court of Justice, indicating possible areas of reform and that the current debate should take place in an atmosphere "more of light than heat". The remarkable story of ERA is set out, with suggestions for the future.
There is a history of the Institute of Psychiatry (IOP) from 1979 - 2003 when the author was closely involved, latterly as Chairman of its Advisory Committee, and an article about interdisciplinary collaboration at King's College London, particularly law and medicine.
The author's 2008 "Reading" in the Middle Temple which proposed further international links is included and, after membership from 1990-2010 of the Temple Church committee (as Chairman in 2003), he addresses its development as the Mother Church of the Common Law, the Inns of Court being the cradles. Finally, Sir Konrad Schiemann's end piece encompasses European law, ERA and the modest vineyard of the Toulmin family in Burgundy.
Expanding the Horizons will be of interest to the Judiciary, practising lawyers in the UK and overseas, legal historians and legal and medical academics.