Saggerson on Travel Law and Litigation 5th ed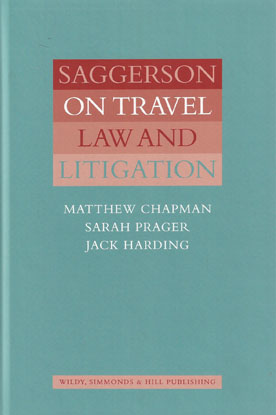 ISBN13: 9780854901197
Published: February 2013
Publisher: Wildy, Simmonds and Hill Publishing
Country of Publication: UK
Format: Hardcover
Price: Out of print

With a Foreword by His Honour Judge Saggerson
Written by a new team of leading practitioners at the London travel law set, 1 Chancery Lane, this new edition of this well-known work comprehensively revises and updates classic topics. Existing case law is placed in a practical context and the many new developments in the law are discussed in detail.
Features a large volume of new case law, comprehensively discussed
Provides authoritative and clear guidance on all topics of relevance
Offers lively and engaging commentary, written by leading practitioners for practitioners
Thoroughly considers new EU legislation
Travel law and litigation is one of the most dynamic areas of practice and new law is constantly being made. The volume of new case law has increased significantly since the fourth edition was published and the busy practitioner needs to remain on top of this. The fifth edition provides full commentary on all topics of relevance to the travel lawyer and also considers the following new developments:-
What is a "package"?
Where do we now stand on the local safety standards defence?
What is the extent of a tour operator's liability for off-package sales and what is the contractual framework for such liability where it arises?
How are general damages for loss of enjoyment of a holiday to be calculated?
What is an "accident" within the meaning of article 17(1) of the Montreal Convention?
What is the proper forum within which to bring a claim under the Athens Convention?
How do the Denied Boarding compensation provisions work in practice?
What is an Odenbreit claim?
How is the Rome II Regulation to be applied?
Both a digest of the existing law and a lively guide to where the law may be heading, this new edition of this leading text is clear, concise and authoritative. It will be of interest to all those who deal with claims that have a cross-border elements and will prove an essential addition to the library of all barristers, solicitors and legal executives who practise in this expanding field.
The authors are Barristers at 1 Chancery Lane, where they handle the full range of travel-related litigation. They serve on the Committee of the Travel & Tourism Lawyers' Association (respectively, as Chairman, Treasurer and Secretary). They have been involved in many of the most high profile travel law cases of the past decade.