All Jangle and Riot: A Barristers's History of the Bar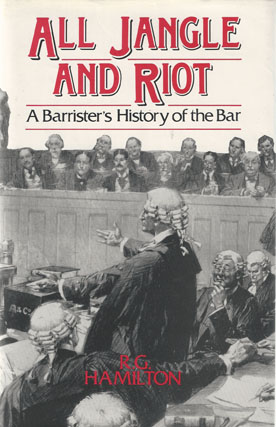 ISBN13: 9780862050832
ISBN: 0862050839
Published: June 1986
Publisher: Professional Books Ltd
Country of Publication: UK
Format: Hardback
Price: Out of print

Out of Print
A friend who was a practising lawyer in Gaul, wrote to Cicero and said: 'I suppose one day, they will even have a Bar IN ENGLAND!'
It seemed too laughable for words. He could never have guessed what the English Bar was going to be like. This is, amazingly, the very first History of the Bar from its beginning to modern times.
Of course it includes many famous stories: the great Coke prosecutes Sir Walter Raleigh mercilessly. Erskine makes his reputation in his very first case. F.E.Smith flays his opponents with sardonic phrases. Norman Birkett cross-examines an expert on 'the co-efficient of expansion of brass'. And at the Nuremberg Trials the British Bar bring to justice the greatest criminals of all time.
But many superb stories have never been told before. Advocates play dirty tricks on each other in ancient Rome. There is a furious trial by battle, which suddenly settles. Young law students pelt the butler in Lincoln's Inn with butter. William Prynne has his ears cropped for hinting that the Queen and other ladies at Court were 'notorious whores'. An eminent QC is disbarred for sharp practice, and a future Lord Chancellor is suspected of being an international terrorist.
The most fascinating discovery must surely be the Law Report Charles.Dickens wrote of an absurd ecclesiastical case.
The phrase All jangle and riot means 'stuff and nonsense', and was used by a 14th century judge to counsel who incurred his wrath. But almost anything can happen in a law court, and frequently does. The book answers such practical questions as 'When the Defendant is in a gaol surrounded by a lynch mob firing machine¬guns, should his counsel apply for an adjournment?' (This arose in an American case).
It unveils the Tibetan Temple defence, and explains how Kermit the Frog perverted the course of justice. This is legal history for those who never thought of enjoying legal history.