The Judicial Bench in England, 1727-1875: The Reshaping of a Professional Elite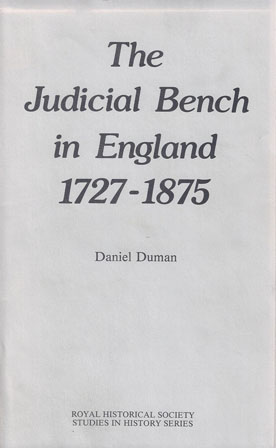 ISBN13: 9780901050809
ISBN: 0901050806
Published: January 1982
Publisher: Offices of the Royal Historical Society
Country of Publication: UK
Format: Hardback
Price: Out of print

Out of Print
The judges of the royal and ecclesiastical courts of England constituted the most powerful and visible of the professional elites in eighteenth and nineteenth century Britain. Nevertheless they have so far received scant attention from historians.
This prosopographical study based on printed and manuscript sources traces the interplay between the judges, society and politics in England from the accession of George II to the implementation of the Judicature Acts in 1875. Through detailed investigations of the educational, pre-judicial and judicial careers of the judges as well as of their social quality, political involvement, wealth and investments, family structure and life style the author has constructed a comprehensive social portrait of the profession.
The book examines the transformation that occurred in the behaviour and attitudes of the judges, especially between the 1780s and 1850s as their social origins diverged from those of the landed classes and began to converge with those of the Victorian upper bourgeoisie.
The judiciary, and by implication the bar as well, is shown to have undergone a process of professionalization before the other gentlemanly professions. In the final chapter these changes are placed in social and historical perspective with the progress of the professional revolution of the nineteenth century.