Two Hundred Years of London Justice: The Story of Hampstead and Clerkenwell Magistrate's Courts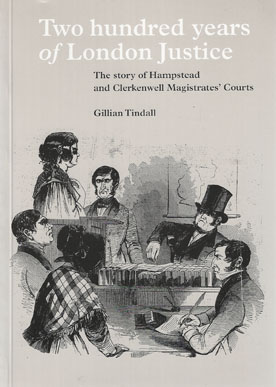 ISBN13: 9780904491524
ISBN: 0904491528
Published: July 2003
Publisher: Camden History Society
Country of Publication: UK
Format: Paperback
Price: £6.95

In 1998 two magistrates' courts, Hampstead and Clerkenwell, were closed. They had until 1964 been 'keeping the peace' in two very different districts of London containing two very different populations, presided over by very different kinds of magistrates.
In 1965 they were combined, and operated as the West Central Division of the Inner London Magistrates Court Service. However, a mere 33 years later, the two courts were shut down and their business was transferred to other boroughs than Camden.
In this fascinating book the writer and historian Gillian Tindall vividly portrays how these two courts upheld the law during the roth and zoth centuries, operating at first in parallel and at the end in harness. She also maps the changing social characteristics of the districts where the magistrates endeavoured to maintain order and - insofar as it lay in their power - to promote social harmony amongst the people with whom they came into bruising contact week by week.
The pictures of the districts that emerge - semi-rural, respectable and staid on the one hand; urban, less well- heeled but perhaps more spirited on the other - will induce a flicker of recognition in most readers' minds as they reflect on their own environment and social conditions over the years. So the book is not just about two parts of London, but is concerned with a universal problem: how to deal firmly yet humanely with human weakness and folly ... not only of the miscreants but, in some periods, of the magistrates themselves .