Essays in English Legal History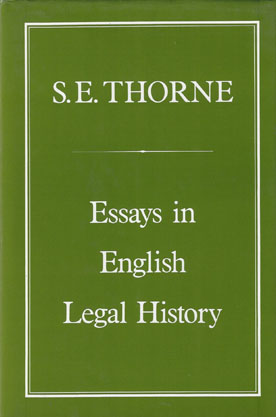 ISBN13: 9780907628569
ISBN: 0907628567
Published: August 1985
Publisher: Hambledon Continuum
Country of Publication: UK
Format: Hardback
Price: £80.00
(Second Hand)

S.E. Thorne's edition of Bracton has made him the pre-eminent authority of this central text of English medieval law. His interests however extend from the eleventh to the seventeenth century.
This collection of his work, which makes easily available previously scattered publications, ranges from the coronation charter of Henry I to the career of Sir Edward Coke.
As well as mastery of English law, Professor Thorne shows his ability to see developments against the background of Roman law and continental custom and in relation to canon law and feudalism. He gives a succinct account of Bracton and of the text of De Legibus Angliae and examines aspects of the Summa of Gilbert de Thornton and of the early interpretation of statute law.
After placing English law in the context of the Renaissance and the political and social changes of the sixteenth century, Professor Thorne looks at the bibliography of St. Germain's Doctor and Student and Fitzherbert's Abridgement and ends with three pieces on Coke.