Legal Theory and Legal History: Essays on the Common Law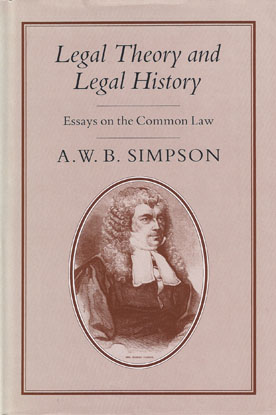 ISBN13: 9780907628835
ISBN: 0907628834
Published: July 1987
Publisher: Hambledon Press
Country of Publication: UK
Format: Hardback
Price: Out of print

Out of Print
A.W.B. Simpson has recently shown that serious work on legal history can be both readable and entertaining in his Cannibalism and the Common Law.
This collection of essays ranges from the laws of Ethelbert of Kent to the problem of understanding African laws in terms other than those of the English Common Law; they are united by the author's lightness of touch and by his exceptionally wide knowledge of legal sources.
After two pieces on the early history of the Inns of Court there are a number on legal literature: the subjects include:-
the Year Books of the fifteenth century,
Littleton's Tenures,
Doctor and Student,
the still familiar legal treatises of Victorian times and their 'ultimate' American successors, Wigmore, Williston, Corbin and Scott.
Professor Simpson looks at change in Contract law in the nineteenth century, having rejected Horwitz's theory of the transformation of 'benign' eighteenth-century law into a legitimisation of market forces in the nineteenth century as oversimplified.
He shows that three models of legal systems (those of Hart, Ross and Hohfeld) fail to allow for the complexity of real life. Finally he argues that in many ways the Common Law survived the law reforms of the nineteenth century and that the reduction of it to a theoretical system is never likely to succeed.