The Notary 2nd ed: A Practical Guide for England and Wales (Latest Edition)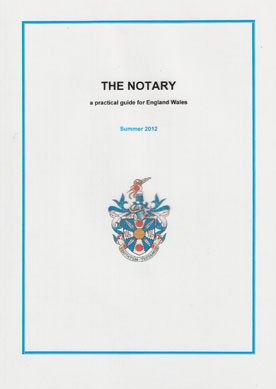 ISBN13: 9780953682522
Published: September 2012
Publisher: Notaries Society
Country of Publication: UK
Format: Looseleaf, A4 & CD-ROM of Precedents
Price: Out of print

2017: The Notary is no longer available as a print edition but is avaialble Online. Contact the Nataries Society for details: www.thenotariessociety.org.uk
This 2012 revision of the second edition reflects changes in the Rules that have been made in the last twelve months, particularly in Chapter 16. Other changes may be expected in the near future. The bulk of the text has not significantly altered.
The work is accessible free of charge online to members of the Notaries Society, and available to students undertaking the postgraduate course to lead to qualification as a notary.
This is intended to be a practical handbook and guide for notaries and students. It is not intended or suited to replace Brooke's Notary or the other standard legal texts.
Under the auspices of The Notaries Society this revision has been prepared by:-
Nigel Harding LL.B (London) TEP Notary Public.
Peter Hardingham Notary Public
Christopher Langdon M.A. (Cantab) Notary Public
Michael Lightowler LL.B Notary Public
Tony Martin LL.M.,M.A.(Cantab)Attomey: State of New York, USA and Notary Public
Roger A Patten LL.B Notary Public.