Commons and Greens: The Modern Law 2nd ed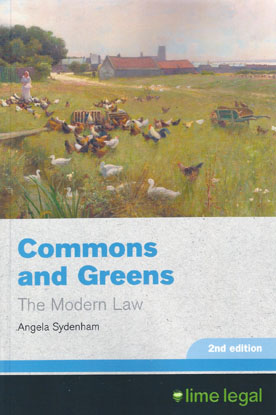 ISBN13: 9780955283475
Published: May 2016
Publisher: Lime Legal Ltd
Country of Publication: UK
Format: Paperback
Price: £65.00

Wildy's Book of the Month: June 2016
Almost ten years have passed since the Commons Act 2006 received Royal Assent, introducing a new scheme for the registration, management and protection of common land, and town and village greens.
In the interim important provisions within the Act and regulations have been brought into force across England and Wales. The Act itself has been amended to restrict the right to register village greens and to enable landowners effectively to bring to an end any use of land for lawful sports and pastimes.
There has also been much litigation over whether land has become a town or village green, culminating in the 2015 Supreme Court decision in R (on the application of Newhaven Port and Properties Ltd) v East Sussex County Council & Newhaven Town Council.
All practitioners advising on the acquisition, sale, development or management of rural land will need to know about the implemented and prospective changes to the law relating to common land, and town and village greens. Written by one of the leading experts in the field, this new edition has been substantially expanded so that in addition to offering a detailed commentary of the legislation, it explains all subsequent developments, providing a comprehensive text on the subject.
Angela Sydenham, Solicitor, was formerly chief legal adviser to the Country Land and Business Association. Angela has established a national reputation for her legal expertise in matters of common land and public rights of access, and is the author of several texts on the law relating to rural land.