Dare to Stand Alone: The Story of Charles Bradlaugh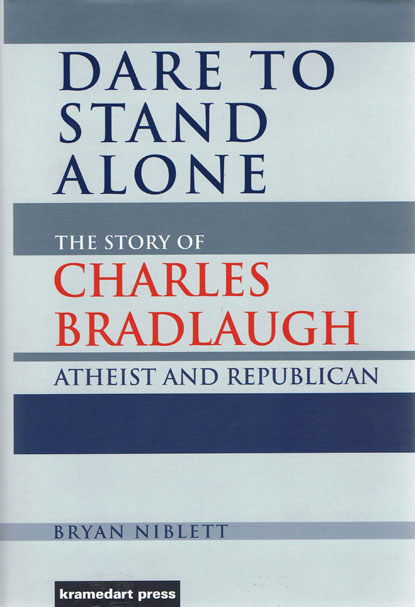 ISBN13: 9780956474308
Published: January 2011
Publisher: Kramedart Press
Country of Publication: UK
Format: Hardback
Price: Out of print

Abhorred as an atheist, reviled as a republican, and loathed as an advocate of birth control, Charles Bradlaugh was one of the most detested men in mid-Victorian England. Elected to Parliament in 1880 as one of the Members for Northampton, his uncompromising atheism launched him into the greatest parliamentary struggle of his time. The House of Commons denied him the right to affirm or to swear the oath of allegiance. This struggle with its many twists and turns lasted for six years of crowded conflict. When Bradlaugh was finally successful in taking his seat, the diligence he showed as an MP, his brilliant oratorical powers, and his introduction of vital legislation made him an outstanding backbencher and eventually won him the respect of his fellow members. His major legislative triumph was the Oaths Act 1888, which secured the right to affirm as an alternative to swearing an oath.
The book also examines the relationship between Bradlaugh and Annie Besant, feminist and freethinker and his most intimate colleague. She subsequently became a socialist and theosophist so distancing herself from the man who had been her constant companion.
This new and comprehensive biography, the first for thirty-nine years and the first written by a lawyer, deals in detail, yet in an accessible manner, with the constitutional and legal struggles that dominated Bradlaugh's life. It tells the dramatic story of the most significant back-bench MP of the nineteenth century.