Havers: Defining The Bar 2013 22nd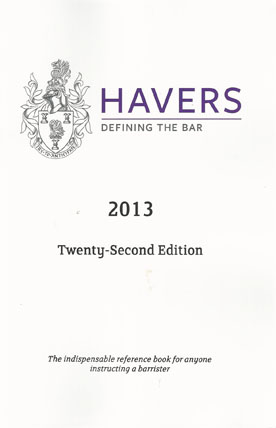 ISBN13: 9780956913111
Published: September 2012
Publisher: Havers' Directories Ltd
Country of Publication: UK
Format: Paperback
Price: Out of print

To coincide with the launch of the new Havers-Find-A-Barrister. Havers have reformatted their highly successful Havers Companion to the Bar after 21 years of publication of the Havers information in book form.
In keeping with changing times and far greater use of technology and building on our past success. future editions of our annual hard copy publication, published under the new title Havers: Defining the Bar, is formatted in an easily accessible softback edition packed with 500 pages of essential information about barristers and their chambers and the work that they do.
The book contains tables showing a barrister's practise and a comprehensive chambers section revealing the strength of sets of chambers in any area of law. All this information is also available online and allows direct access to the chambers website.
This new format means that the book can be used in conjunction with the new website so that a user wishing to know more about a barrster selected from our comprehensive tables in this book can view their up-to-date profile online.