Writing Medico-Legal Reports in Civil Claims: An Essential Guide 2nd ed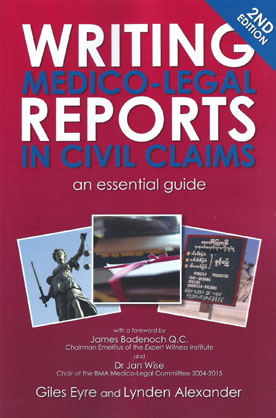 ISBN13: 9780956934116
Published: November 2015
Publisher: Professional Solutions Publications
Country of Publication: UK
Format: Paperback
Price: £69.95

Written for medical experts and quantum experts by Giles Eyre and Lynden Alexander and published in association with the Expert Witness Institute, this Second Edition of the highly-praised guide to medico-legal report writing in civil claims bridges the 'communication void' that too often exists between medical experts and the lawyers who instruct them.
The guide explains the legal principles and rules of court that must be applied in writing reports, gives guidance on the report's content and format, provides practical forensic writing skills, and explores the practical and contractual issues that arise in medico-legal practice.
The Second Edition has been revised, updated and expanded to include the latest case law, the most recent developments in medico-legal work (including the impact of the 'Jackson Reforms' and MedCo), assessments of mental capacity and the issues that arise in Quantum and Care Reporting.
The text includes the following:-
The new Guidance for the Instruction of Experts in Civil Claims 2014
Full updates of the Civil Procedure Rules 1998 and Protocols and explanation of the "Jackson Reforms"
Sample Terms of Appointment in the new post-Jackson financial environment
MedCo and the new legal framework for soft-tissue injury claims
Recent case law concerning causation, acceleration of symptoms and prognosis
Guidance on how to report effectively on:
Personal Injury and Clinical Negligence claims, including the new law on consent to treatment and extended guidance on the application of the Bolam test
Causation issues in straightforward and complex claims
Acceleration and exacerbation
Exaggeration and malingering and the use of surveillance evidence
Mental capacity issues
Heads of claim, including disability in domestic and employment settings and future complications
Quantum, Care and Other Needs reports
Extended guidance on the joint discussion and drafting the joint statement
Practical issues that arise in medico-legal practice.