Private Foundations: Law & Practice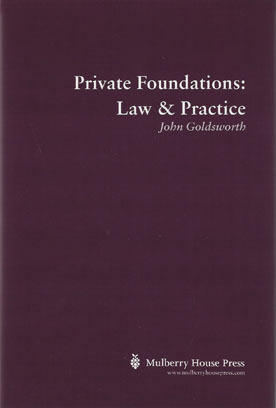 ISBN13: 9780957084308
Published: November 2011
Publisher: Mulberry House Press
Country of Publication: UK
Format: Hardback
Price: £86.00

Wildy's Book of the Month: December 2011
Private foundations are being used increasingly for the preservation and management of private clients' funds. Private foundations have been introduced by legislation in financial centres where previously they were unknown.
Private foundations have similarities to trusts and companies but, as this book demonstrates, they are separate legal structures with their own advantages and pitfalls. Private Foundations: Law & Practice considers these versatile vehicles and advises how to avoid some fundamental errors which may not be perceived by simply regarding foundations as incorporated versions of trusts.
For the benefit of purchasers of Private Foundations: Law & Practice new legislation will be added, from time to time, to the Foundation Society website. Note: practitioners in the United States and Canada should be aware that the private foundations dealt with in this book have significant advantages for the founder and are different structures from the private foundations used in North America for charitable giving.
This pioneering book is essential for foundation and trust practitioners and others advising or administering assets for private or corporate clients.
The only book on private foundations for practitioners and trust officers.
Private Foundations: Law & Practice examines the definitions, nature and development of private foundations.
Legislation is considered in all countries currently offering private foundations.
Clear and accessible appraisal of the unique characteristics of private foundations.
Discourse on how private foundations are treated in the conflict of laws and their relationship with trust and contract Conventions.
Uses of private foundations, with comparisons on how trusts are used in similar circumstances.
Practical aspects of private foundation practice such as taxation, liquidation and enforcement.
Updating and supplementary information accessible on: www.foundationsociety.com for purchasers of the book.